One of the most highlighted parts of your house is the living room. Many homeowners consider their living room as the center of attraction. This is also the space where many people get soaked in decorating, updating, and renovating their living room to ensure it looks stylish and welcoming. After all, this is where you lounge with the entire family and welcome your guests whenever they pay a visit to your home. With the many functions of a living room, it's not surprising that it's also the easiest place for the clutter to pile up. 
One minute, your living room is squeaky clean, and the next thing you know, pieces of clutter are already scattered on the floor and tables. This is true, especially if you're living with kids or pets. Before you panic, there are some steps you can take to reclaim your living space, declutter the area, and make it organized and inviting again. 
So, to get started, here's a step-by-step guide on how you can effectively declutter your living room. 
Take a Good Look at Your Living Room Clutter
Before picking up anything, get a good look at your living room and determine which items shouldn't be there or which furniture is becoming an eyesore to the space. For instance, you might notice that a pile of old newspapers on the coffee table or that dusty artificial flower arrangement already has several broken flowers, or perhaps that couch you have is already ragged and need a replacement. 
Once you know the causes of clutter in your living room, that's when you can grab a trash bag and get rid of all those unwanted items. For larger items like your couch, you may call on the rubbish removers as they'll take care of the couches that you don't need. Meanwhile, for the smaller items or trashes like the newspapers and old magazine issues, pack them up decisively in your trash bag.  
If you don't want to have to get rid of old furniture, learn how to extend your furniture's lifespan.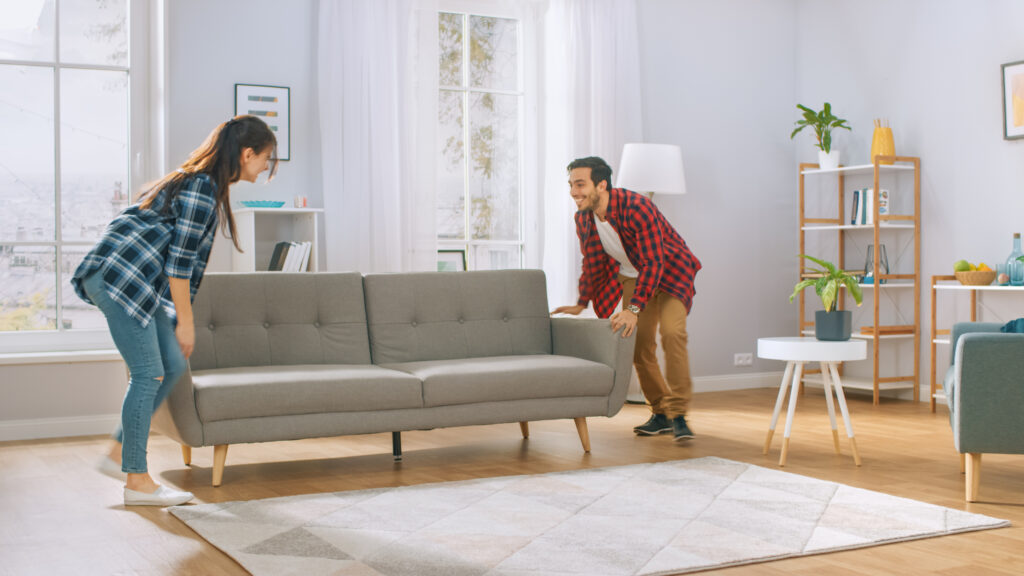 Sort Through the Items
It might be easier to just stuff everything in one trash bag. However, doing this might only lead to more time wasted as you need to separate them later on, depending on their category. So, to save you time and energy, get yourself four trash bags or boxes and use them for these purposes: 
Donate

– For this trash bag or box, feel this with items you no longer need, use, or love but are still reusable and in good condition. You can choose to donate them to charity or give them away to your friends or relatives you think might use them. 

Put Away

– This box is for the items you occasionally use. 

Relocate

– This is for the items that don't belong in the living room, but you're still using them for other purposes. 

Trash

– This is for the actual trash that's unusable and unrepairable and should be disposed of right away by the rubbish removers. 
Having a fifth trash bag for 'Repair' is optional. Make sure you only have this box if you have the intention to repair your damaged items. Otherwise, keeping them only to hide them somewhere else in the house will only create more clutter. 
Clear Off Your Flat Surfaces
Now that your living room looks more spacious and breathable, considering that you got rid of some of the items, it's time to check the flat surfaces. Flat surfaces may include your coffee table, TV unit, bookshelves, and living room drawers. One of the easiest areas in the living room to get cluttered is these flat surfaces. For instance, as you get home, you just dump your jacket, car keys, or unread mails on the drawer or coffee table. 
Check your flat surfaces, see if you find items that don't belong, and put them back into their rightful places. To help you and your family members control your clutter habits, have a small jar or bowl and use it to keep all your car and room keys. It's also a good idea to invest in a hat stand and place it near the entryway to prevent everyone from dumping their hats and jackets in the living room. 
Tame The Cables And Wires
Another eyesore in your living room that could add to the clutter is the unorganized cables and wires from your living room technologies. So, find a way to tame them and keep them out of sight. For instance, you can put clear hooks along the back edges of the nearest furniture. Then, you can hook those dangling cables and wires to hide them neatly behind the furniture.  
The remote control and game consoles could also be an eyesore to your living room. To put them away neatly, have a small box and place it at the center of the coffee table. You can utilize this as a container for all the remote controls instead of placing them anywhere. 
Get Your Shelving Sorted
Most homeowners have shelves in the living room to have a space for their displays and decorations. But over time, these things can get unorganized, especially if you've been unconsciously adding more items to them.
So, check your shelves and sort out your items. Take out those things which you think aren't visually appealing anymore. Remember, the less stuff you have on your shelves, the neater and more clutter-free it will look.  
Start Your Living Room Declutter Now
Start decluttering your living room now by going through this step-by-step guide. Once you've finished this mission, your living room will surely feel much lighter, stress-free, and cozier.