No matter the size of a kitchen, it remains a place where family and friends gather to make or eat their meals. As a result, kitchens need to be both functional and stylish. But most people tend to focus on functionality and ignore style, which doesn't make the space feel comfortable and inviting.
Luckily, there are thousands of designs and numerous functions that can be incorporated into your kitchen. You have to choose a theme that works for you and find materials, lighting, furniture, and utensils that create a concrete look. For instance, sturdy wire shelving and stainless-steel tables, sinks, and benches create a highly functional, hygienic, modern kitchen look.
So, to ensure that you have a functional space, you need to find tips that create versatility and show off your taste. Discussed below are some that are helpful in fostering a functional and stylish small kitchen. Happy reading.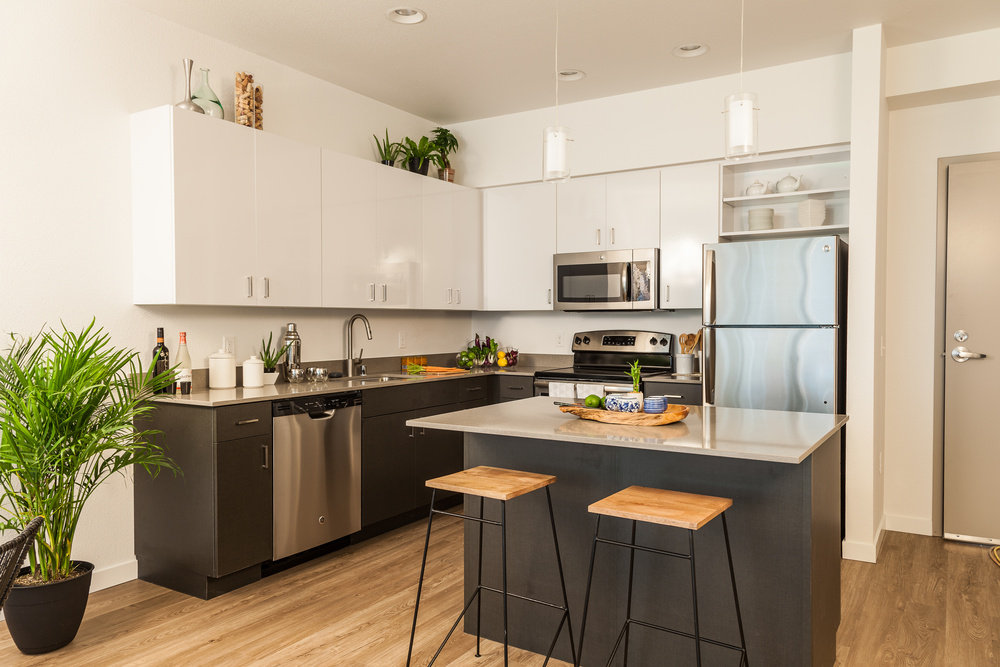 Maximize Space In Smart Ways
Making a small kitchen functional can be hard as you have to work twice as hard to design it due to space constraints. Optimize spaces that might have been wasted by placing your kitchen equipment that doesn't need relocation.
For instance, you might need a commercial bar fridge that efficiently utilizes space compared to larger fridges as they fit in tight spaces. Additionally, utilize space on the walls and doors by adding things such as utensil rail.
You can have additional storage by incorporating a mobile solution. For example, consider getting a trolley that can hold additional kitchen-related items and can be moved around. 
Stainless steel furniture is versatile and can serve multiple purposes in a small kitchen. For example, a stainless steel island can double as a food preparation area and a dining table, saving valuable space. Also, stainless steel furniture can be customized to fit your specific kitchen layout and storage needs. Small kitchens can be prone to moisture and humidity, especially with insufficient ventilation. Stainless steel is moisture-resistant and won't warp or degrade in damp conditions.
Rethink Kitchen Furniture
Kitchen furniture can take up a lot of space if not chosen well. As a result, you might need to go for alternative furniture instead of traditional ones. A good example is instead of getting normal seating for your dining table, opt for a bench that pulls out and combines it with normal dining chairs.
Collapsible furniture is also a great choice when you need to save space. With this type of furniture, space isn't compromised and is very efficient in adapting to the kitchen's needs.
Mix Open And Closed Shelving
To avoid keeping clutter, consider getting both open and closed shelves.
With open shelving, you fill odd spaces around the kitchen with items that'd usually take up storage. Open shelving also keeps you organized.
As for closed shelves, you'll be able to keep away items that don't look great displayed. This is especially for items that don't match the theme.
Use Sliding Doors
Doors in small spaces take up a lot of space, making an area look cluttered and small. So, to avoid making space for a door in an already small kitchen, consider setting for sliding doors. Since the doors operate without a hinge, they glide rather than swing open. 
When selecting a sliding door for your kitchen, measure the available space. Consider the type of sliding door that suits your needs, whether it's a space-saving pocket door, a rustic barn-style option, elegant French doors, or sliding glass doors for natural light and indoor-outdoor connectivity. Choose the material that complements your kitchen's style, with options including wood, glass, or metal—factor in functionality, deciding between single or double doors, and selecting suitable hardware.
Consider privacy and light control, and think about maintenance requirements. Ensure that the door's design matches your kitchen's overall aesthetic, and set a budget while comparing different options. Seek professional advice if needed and conduct thorough research before making your final decision.
Stick With A Light And Airy Design
When looking for a color theme for your small kitchen, lighter paint and finishes give an illusion of a bigger space. If you enjoy color and don't necessarily want whites and creams, you can opt for colors such as pastels, earth tones, or primary colors that can be personalized to fit small kitchens.
Stay away from colors that distract from cooking and cleaning. Your main focus should be getting colors that leave the room feeling light and airy while tying the adjacent spaces together.
Use Textured Walls To Create Depth
Adding textured walls in a small space is a great way of incorporating style and making the space look big. These walls add dimension to the rooms by preventing the room from looking similar. Plus, the texture on the wall creates a new look that makes your kitchen look more interesting.
Incorporate Glass To The Space
Glass has a way of making the room seem large and airy. So, if you're remodeling, consider getting floor-to-ceiling cabinets with glass. Glass is guaranteed to enhance small spaces by opening it, kitchen included.
In addition to glass, incorporate reflective surfaces that'll bounce light around. These surfaces might include patterned tiles, marble countertops, or crisp colored cabinets. Your kitchen will look and feel light, airy, and spacious.
Get The Right Flooring
When choosing the floor, consider selecting large tiles that won't enclose the space and detract the eye from it. But if you want to add more amounts of light, consider using flooring with a wood effect that's also long and narrow. Consider getting a distinct flooring style for your kitchen to create an illusion that makes the space feel separate.
Bottom Line
When styling a small kitchen, maximizing the space and storage should be the priority. As a result, plan your layout in a way that utilizes vertical spaces for storage. Choose a layout such as a gallery kitchen that's simple and practical. To make your space feel extra, creatively utilize patterns in the kitchen space.