I have lived without a washer and dryer in my home. This has resulted in a deep appreciation for the magical machines I hear humming and tumbling as I type.
Eight years ago, my husband and I ran (literally) into KMart at 5:00 am on Black Friday. We were laser-focused on buying our first washer and dryer. Previously, we lived without them and this was it. Our way into the luxury of washing machine ownership, where you can wash your clothes while cooking dinner or sleeping.
We had no idea how truly grand the prize before us was.
A top load washer and front load dryer.
The dream team. No high tech screens. A grand total of six settings, all operated by knobs. 
Three Secrets for a Dream Laundry Room
A dream laundry room isn't only a beautiful one – but a functional one as well. Learn from these three tips for a functional laundry room you'll want to use.
#1 Basic top load washing machines are your friend
I learned this following a bout of jealousy in regards to all my friends getting cool front loaders. My jealousy was reversed when everyone realized stagnant puddles of water in small spaces is the arch nemesis of fresh laundry. Thank you gravity and thank you, old, basic top loader.
So spin dryer vs tumble dryer – they both have their merits – but the factor that matters most is top load vs front load. And we say top load.
Here are some great top loaders at various sizes:
Secret number two came to me via a terribly designed addition to our 1930s home.
During the 70s, the original homeowners decided to add a blue carpeted bathroom/laundry room combo onto the primary bedroom. It was in this blue laundry room, attached to a yellow bedroom (it was a lot), where I learned having a laundry room attached to your bedroom is a dream.
I now live in a household of five people. Our laundry game is intense. This secret might be my favorite house advice for the laundry MVPs.
#2 Your laundry room should be beside, if not inside, your bedroom
Your room will smell amazing and your constant trips to move towels from the washer to the dryer will be short. You can groggily start a load before brushing your teeth when you wake up. You can start a load before drifting off, while binging your favorite show in bed.
The laundry tackling possibilities are endless.
If you're in the market for a new home, add "laundry room next to your bedroom" to your list of nice-to-haves.
If you're going to be in your current home for some time, a good option might be a little addition to your bedroom. Though the renovation will be a little bit more costly, this may be a better option than trying to reconfigure your current setup and get proper washer and dyer plugins added on the fly.
#3 Invest in Helpful Laundry Room Accessories
Laundry is a big deal – especially if you have a big family like me.
It's worth it to invest in accessories and products to help you get more out of your laundry time. It can be the difference between dreading laundry time and getting excited to spend some quality time in your dream laundry room.
Here are a few of my top laundry essentials:
 These space-saving hampers are your laundry room bff. I keep them hidden away and pop them out when I need them, which is pretty much every day.
Powdered tide or laundry detergent sheets. They work. 
I put a few drops of essential oils on these dryer balls and my laundry smells like a spa.
The laundry soap station. If getting detergent everywhere is a part of your regular laundry routine, this will be a life saver.
Laundry Room Inspiration and Ideas
These three tips are great functional advice for any laundry room. But if you're wondering how to decorate your space, here are some design ideas and inspiration:
Tiled Backsplash with Mud Room / Dog Bath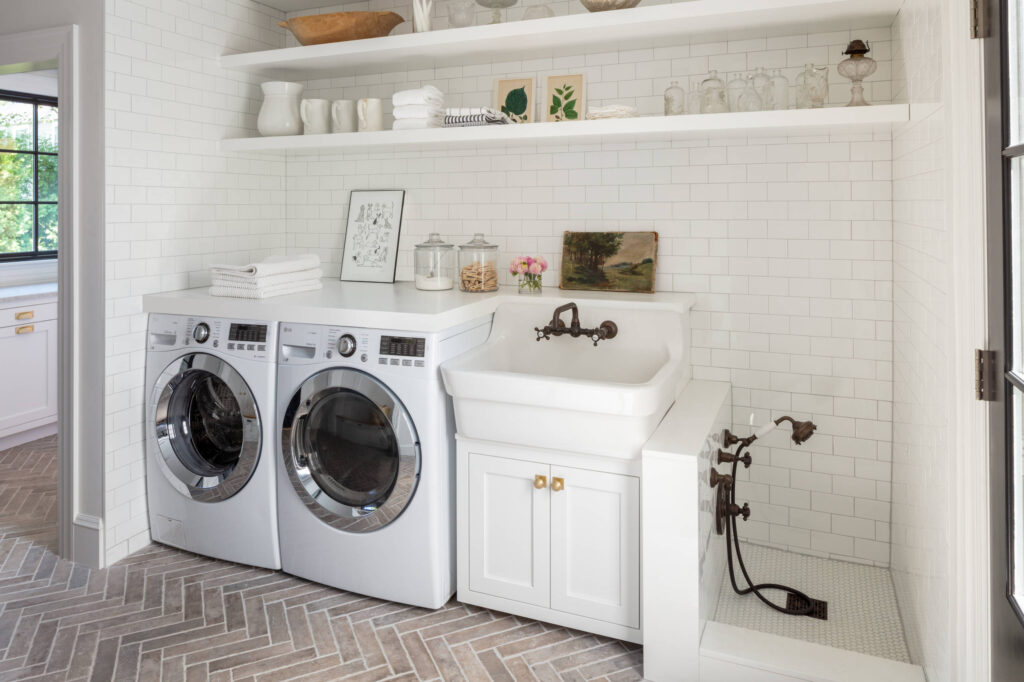 Farmhouse Laundry Room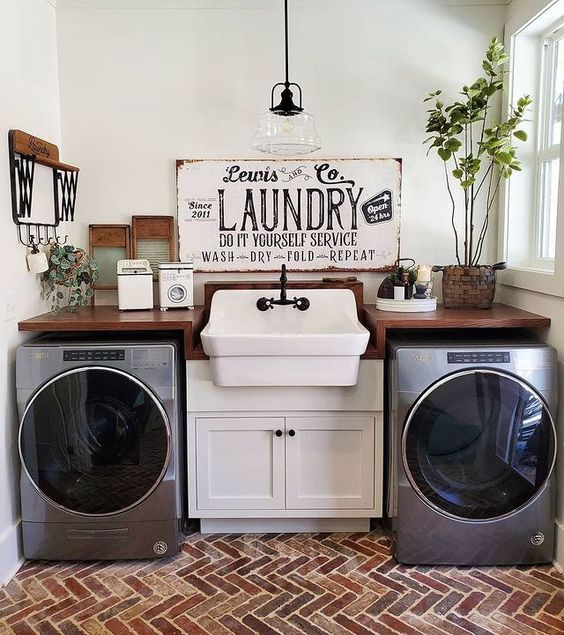 Pinterest
Floral Backdrop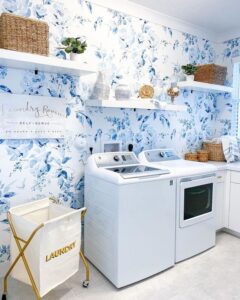 Pinterest
Coral Laundry Room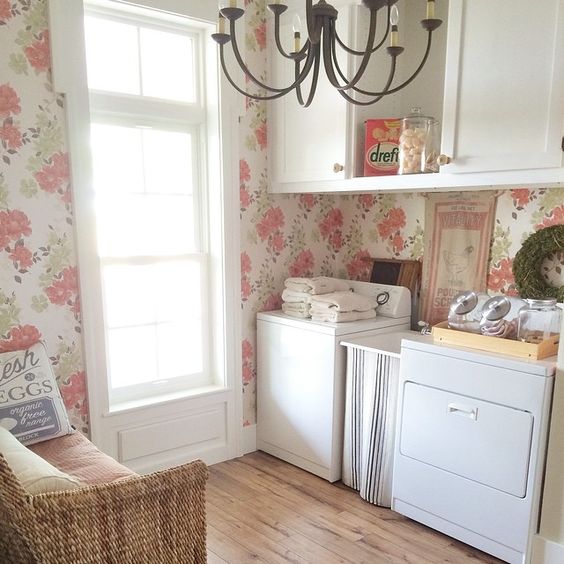 Pinterest
Greenery Themed Laundry Room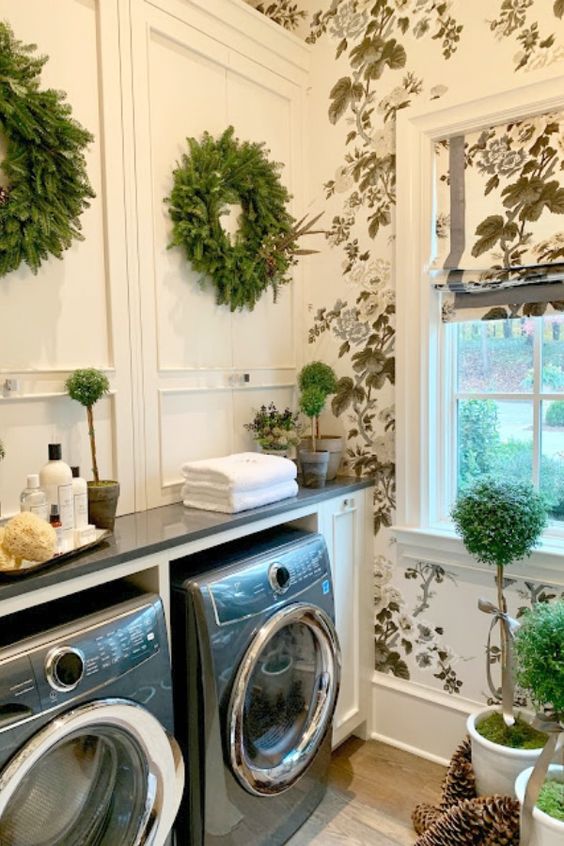 Pinterest
Blue Vinyl Tile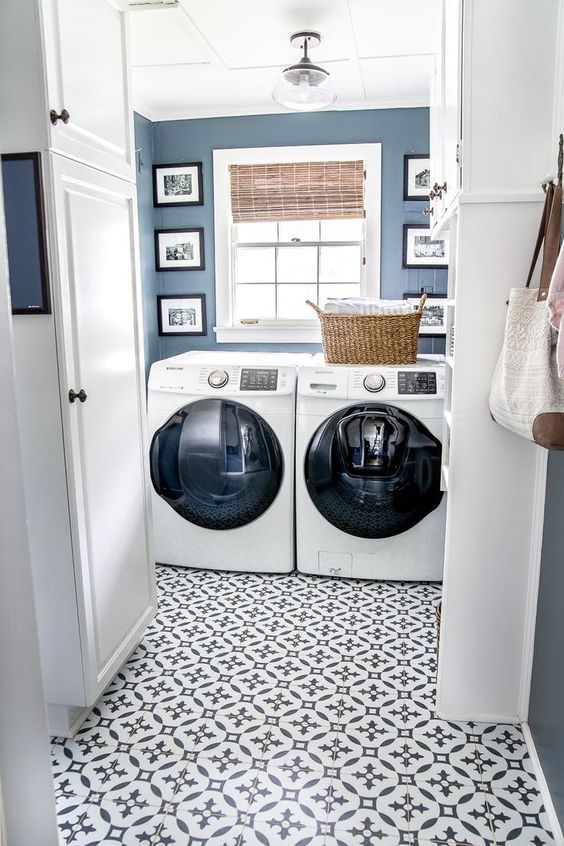 Pinterest
Common Laundry Room FAQ
How much does it cost to build a new a laundry room?
The average cost of adding a brand new laundry room to a home is around $8,415 (according to Home Advisor).
What's the ideal size for a laundry room?
Most would agree a laundry room should be at least 10 feet long and 10 feet wide. That said, most laundry rooms are more of a rectangular size. If you're designing a new laundry room, try to make yours at least 7 or 8 feet wide so you can fit your washer and dryer in, some cabinetry, and leave space to move about.
How can I easily upgrade my laundry room?
If you're trying to add some value to your home, consider installing new cabinets, upgrading cabinet pulls if you already have them, or installing a modern sink.
How to you accessorize a laundry room?
Consider adding shelves with plants, new cabinet hardware, a fashionable calendar, a stylish rug, or a retro stool.
Create Your Dream Laundry Room
Follow these three secrets to create the laundry room of your dreams. Start to look at laundry time with excitement rather than dread.
Your mental health, energy, and family will thank you.