One of the easiest ways to freshen up your living room is to invest in a new sofa. By bringing in a fresh style, color, or fabric, you can easily transform the entire vibe of your living space.
Whether your current living room sofa has seen its better days, or you simply need a change, the good news is that it doesn't have to cost a fortune.
While choosing from all the different styles, sizes and fabrics can be a little overwhelming, we're here to help. Read on for our top picks in affordable couches under $1,000.
How to Choose a Great – But Affordable Sofa
When choosing a sofa for the living room, take the time to think about a few things before hitting the "Buy" button.
Are you going for casual comfort or a more formal vibe?

What sort of design do you prefer? (Straight lines, type of arm support)

How much space do you have?

What is your color/upholstery preference?

What theme have you chosen for your room?
What colors will you be working with?
Do you want a sectional sofa?
Jot down your answers to some of these questions. Then, either flip through Pinterest to find some inspiration, or start shopping around by utilizing the filter settings most furniture retailers utilize. Narrow your selection, read reviews, talk to friends, and then make a purchase!
Or – pick from one of the seven below!
This sofa ticks several boxes. While the modern, clean lines work well in either a casual or more formal environment, your guests will enjoy its comfort. Speaking of guests, the sleeper function of this sofa provides the extra sleeping space you need to accommodate overnight visitors.
Another function of this multi-purpose piece is the hidden-from-view extra storage space for stowing those cleans sheets and pillowcases or hiding the kids' toys on the fly. This sofa provides functionality along with beautiful design. Two things that makes the design of this sofa stand out are the stunning wood arm accents and chunky wooden feet.
While this sofa is beautiful, it's made from durable chenille. Chenille stands up to everyday use, resists wrinkles and "pilling." This stunner is available in a wide variety of colors and a throw pillow is included.
Check It Out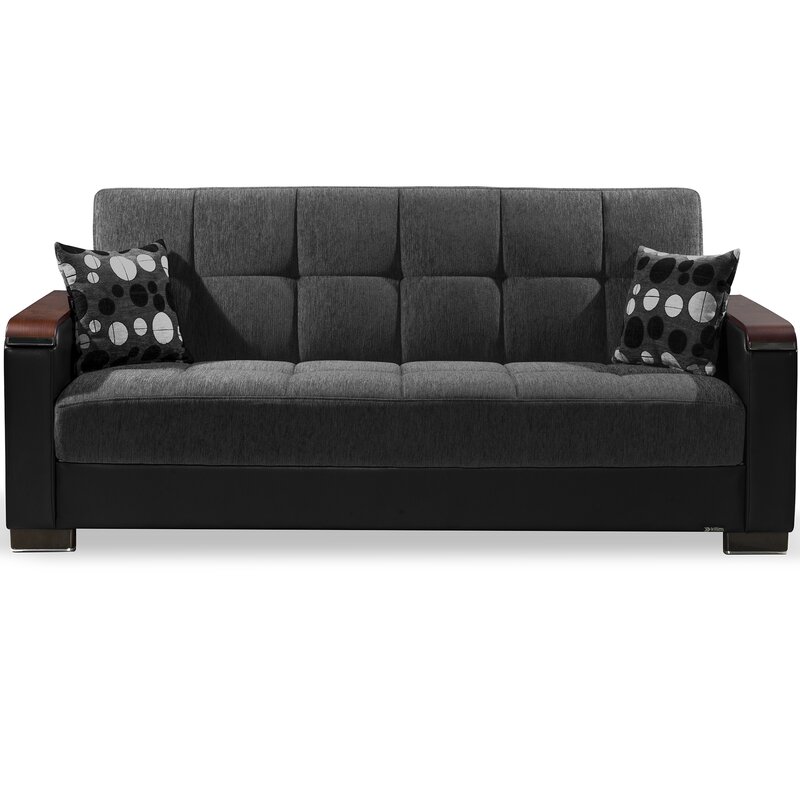 This sofa comes with a beautiful, rolled arms feature which gives your space a relaxed yet stylish update.
This high-quality sofa is built from Eucalyptus wood and high-density foam. The foam is the key in providing excellent support and comfort. It also allows the sofa to retain its shape without sagging after regular use.
Available in six pretty colors, it's covered in an easy-to-clean polyester fabric and solid, wooden legs. The added riveting detail on the sofa give it a customized look.
Check It Out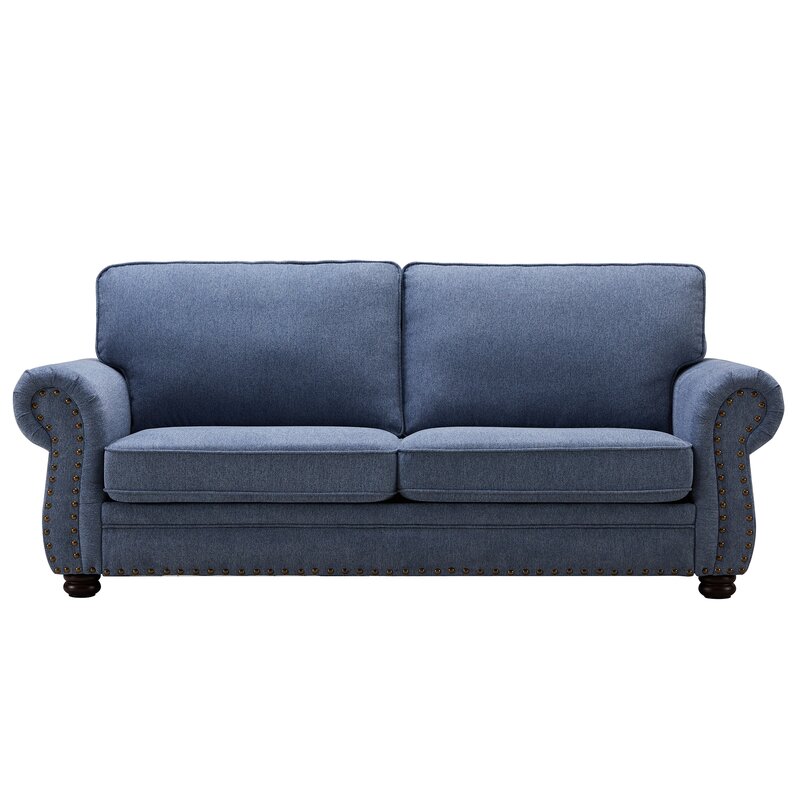 If it's quality craftsmanship you're after, this is the sofa for you.
The manufacturer oversees every detail that goes into making this sofa from milling the wood right from their own lumberyard to assembling the hardwood frames. Only the finest, eco-friendly materials are used to complete the product. The frames and seats are fabricated from thick, comfortable foam. The springs are factory-tested, and upholstery is sewn in-house. What this means for you is that you get a high-quality product a truly affordable price. 
While this sofa has a leather "look", it's made from polyester. The rich, beautiful color won't peel over time, giving you the look and feel of leather without the high price tag. A truly sophisticated sofa choice.
Check It Out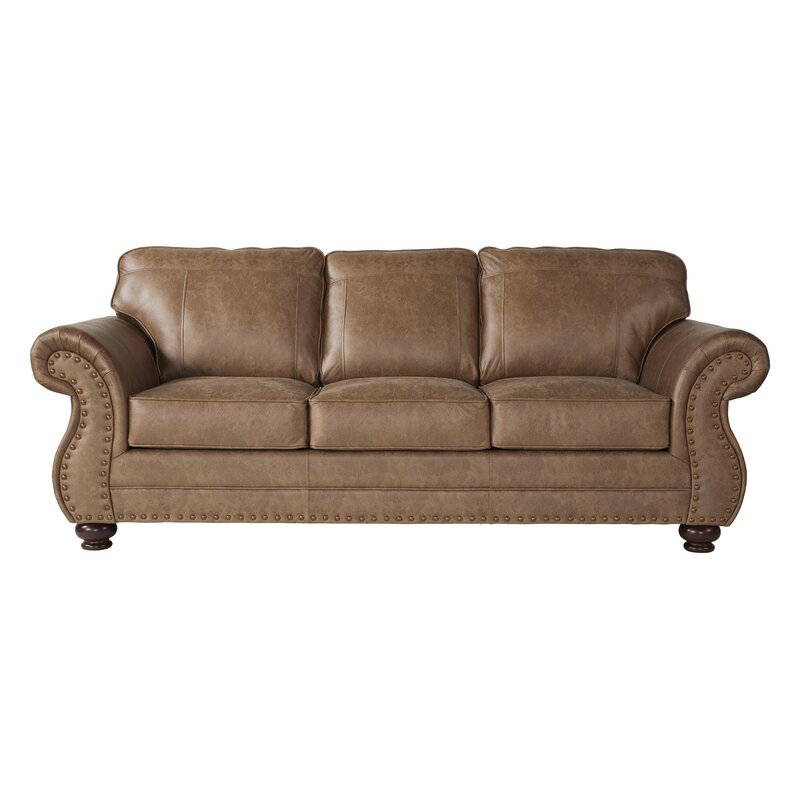 This roomy sofa provides plenty of seating without taking up too much space. A comfortable addition to your living space gives plenty of support without too much firmness.
This product is made proudly in the USA with top shelf engineered and solid wood. The upholstery is made from 100% polyester which gives it the perfect textured look. The black tapered feet complete the design.
The padded seat cushions provide plenty of support, while the back pillows are both removable and reversible. It comes with two complimentary toss pillows for extra flair.
Check It Out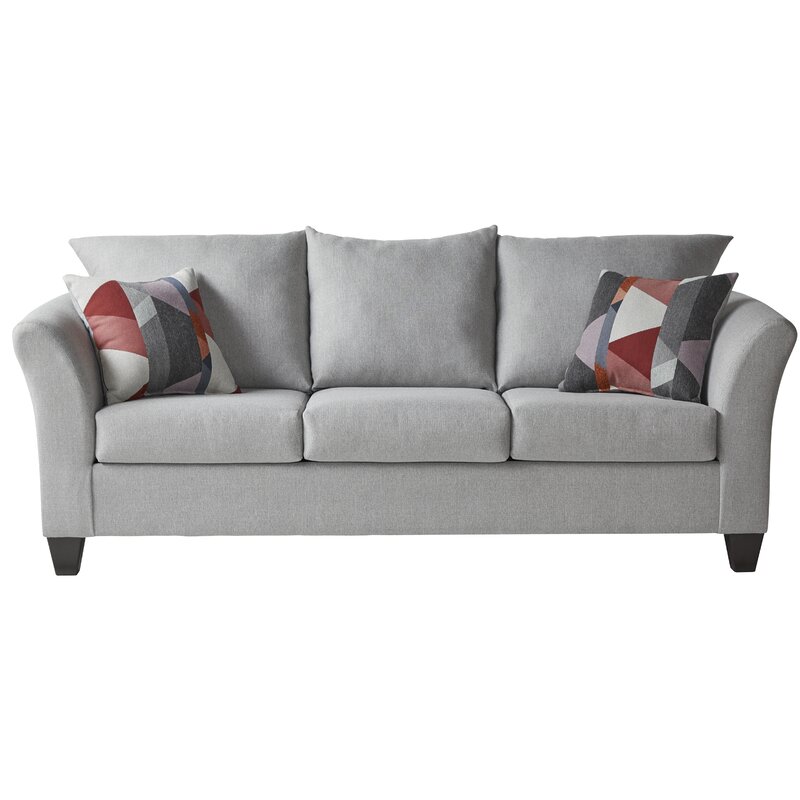 This large and roomy selection can only be described as sturdy and substantial.
A larger sofa for those bigger spaces, it provides a classic yet comfortable place for relaxing or entertaining family and friends.
Manufactured in the USA, this sofa offers crisp lines for a clean, elegant addition to your living space. The recessed arms offer support with a modern twist.
The seat and back cushions are removable and reversible. Although elegant, it's durable, retains its shape and is easy to clean.
With tons of colors and fabrics to choose from, there's something to satisfy those with even the most discriminating tastes.
Check It Out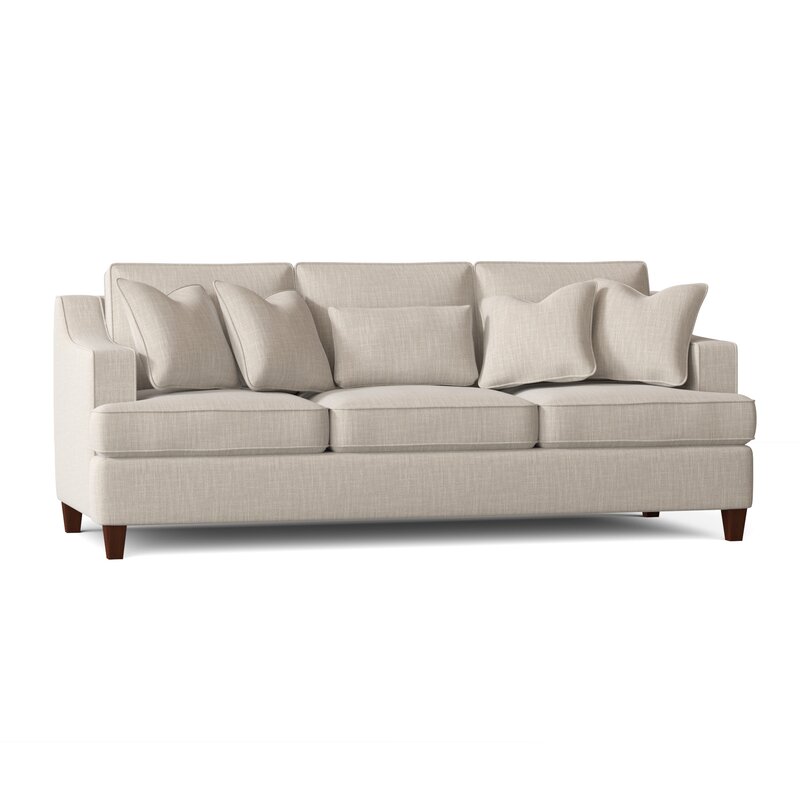 With its traditional rolled arm design style, this sofa works in both a traditional and more modern setting. The clean lines of the manufactured wood frame give a crisp, fresh update to any living space.
With over 30 colors/designs to choose from, the fabric materials range from poly to cotton blends and more depending on your selection. The fabrics offer a stylish look while being easy to clean and maintain.
The seat cushions, filled with plenty of cozy padding, are removable. To round out the design, the legs are made of solid wood.
If you're looking for quality, comfort and style, this sofa fills the bill.
Check It Out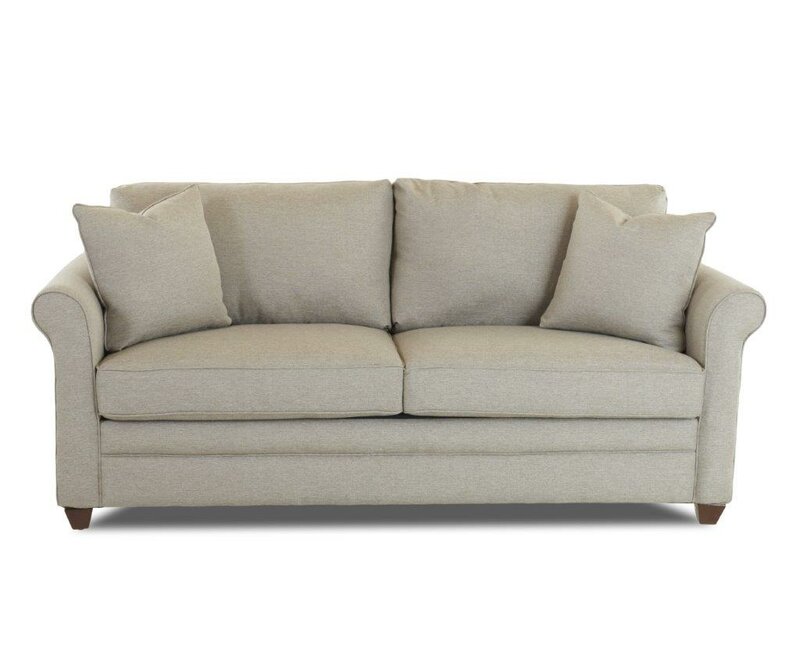 This sofa is the closet thing to a hug. Sink back into the soft, cozy comfort of this pillow top sofa. This sofa offers plenty of roomy seating and – wait for it – two of the three seats recline.
This standard size sofa offers the ultimate in casual design. This sofa is perfect for family-friendly activities such as movie nights at home and curling up with a good book on a rainy day. While casual comfort is the draw here, this sofa is really a showstopper. The color is warm and inviting, covered in an easy-care chenille.
It's a great quality, durably built sofa that will provide comfort and enjoyment well into the future.
Check It Out