Last Updated on August 11, 2022
Are you looking to level up your living room style? No matter what style you want to achieve, strategically mixing and matching furniture will make your living room look like it's worthy of the cover of Arch Digest.
Here's how we recommend mixing and matching living room furniture:
Choose a common thread to blend your furniture together
Consider using a similar color palette
Try going for the same furniture shape and style
Go for the same furniture material
Give your furniture arrangement some time before throwing in the towel
But first, let's address the big question.
Does Living Room Furniture Need to Match?
It doesn't have to match perfectly, but yet, it should match to a degree. We recommend finding a common thread that ties your furniture together. So it doesn't have to be the exact same brand or come from the same living room set at Rooms to Go, but there should be elements that tie it all together.
Gone are the days of buying a 5 piece furniture set. This is a relief to some and anxiety inducing for others. Let's begin with some encouragement. If you've ever moved into a home or apartment on a small budget, you have some experience mixing and matching furniture.
A $20 Ikea coffee table mixed with an old sofa from your grandma's basement. We're not talking vintage, just old. This likely resembles all of our earliest forms mixing and matching. We're going to take that scrappy mentality and add a large dose of intentionality and class to it.
Find a Common Thread for Your Furniture
I am an avid thrift and antique shopper. The thrill of the hunt is appealing. However, after stopping by two or three shops, I feel overwhelmed. The clutter of the shops feels aggressive. It's stressful on the eyes.
When you begin mixing and matching living room furniture, it's easy to acquire too much stuff, which turns into chaos. To avoid your home looking like a thrift shop (we already established we're going for a magazine cover) it needs to be curated and cohesive. Finding a common thread will help your living room furniture arrangement look cohesive and easy on the eyes.
The common thread pulls the room together. The following categories help break down the "common thread" identification process.
Color Palette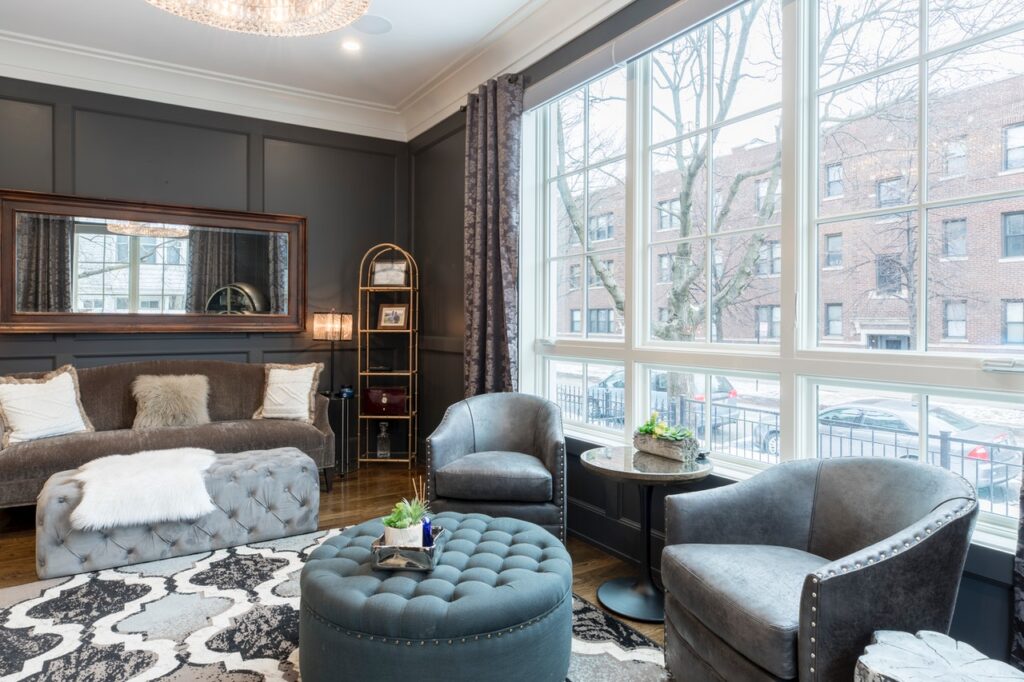 If you don't have much experience mixing and matching furniture in your living room, selecting a limited color palette will serve as an excellent guide.
Choose a few colors. They should be repeated throughout the room, but the whole color palette should not be on all of the furniture.
To test this out, start with just one leading color. That doesn't mean there is only one color in your color palette. It's just the color that is repeated the most throughout the furniture. For example you could have a color palette with taupe, burnt sienna, white and black. This color palette is often used in minimal, chic styles. In this case, I would make black the heavily repeated color. The common thread.
As a general rule, try repeating the "common thread" color at least three times in the living room.
Shape and Style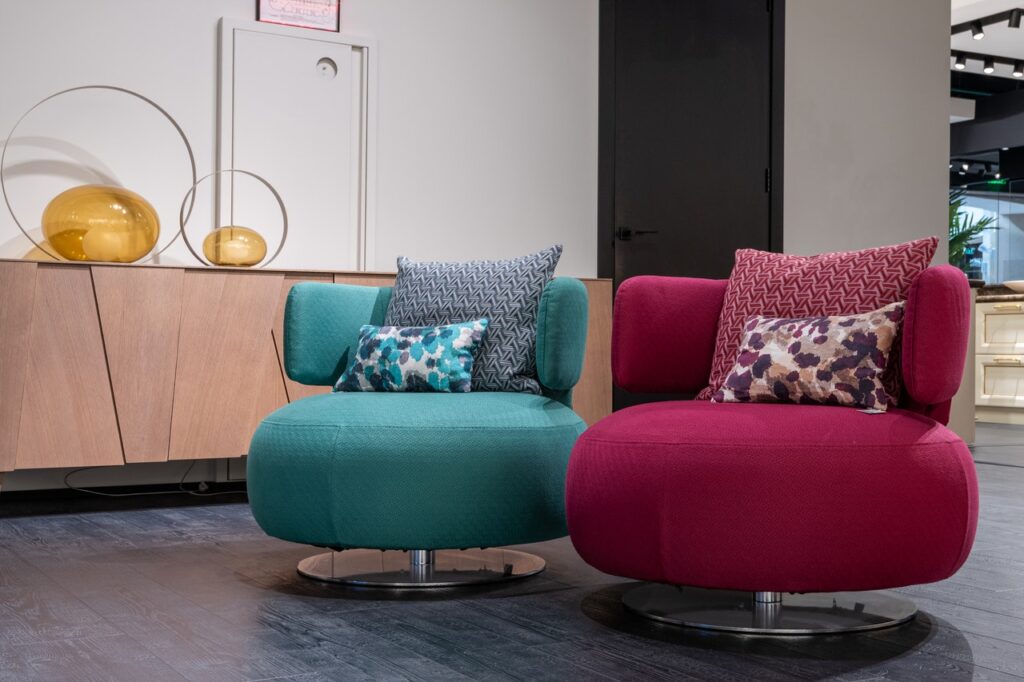 Some styles, such as mid-century modern, include furniture with clean, straight lines. Some styles focus on organic shapes. Think cottages and Victorian homes. You are allowed to combine straight and curvy lines. In fact, it's what most designers do.
Try selecting a sofa with modern, square arms with a round coffee table. It's important to have one or two pieces of furniture that are taller than the rest. This is best done through a bookcase.
If you are selecting furniture by style, decide on 2-3 key styles and stick with furniture that fits in those categories. A mid century style sofa with a classic bookcase, Victorian accent chairs and a rustic rug under the sectional will not feel cohesive. If you need a place to begin, try searching a few styling pairings on Pinterest.
Here are a few style combination ideas:
Modern + Cottage
Eclectic + Victorian
Spanish + Rustic
Organic + Coastal
Traditional + Southern
Materials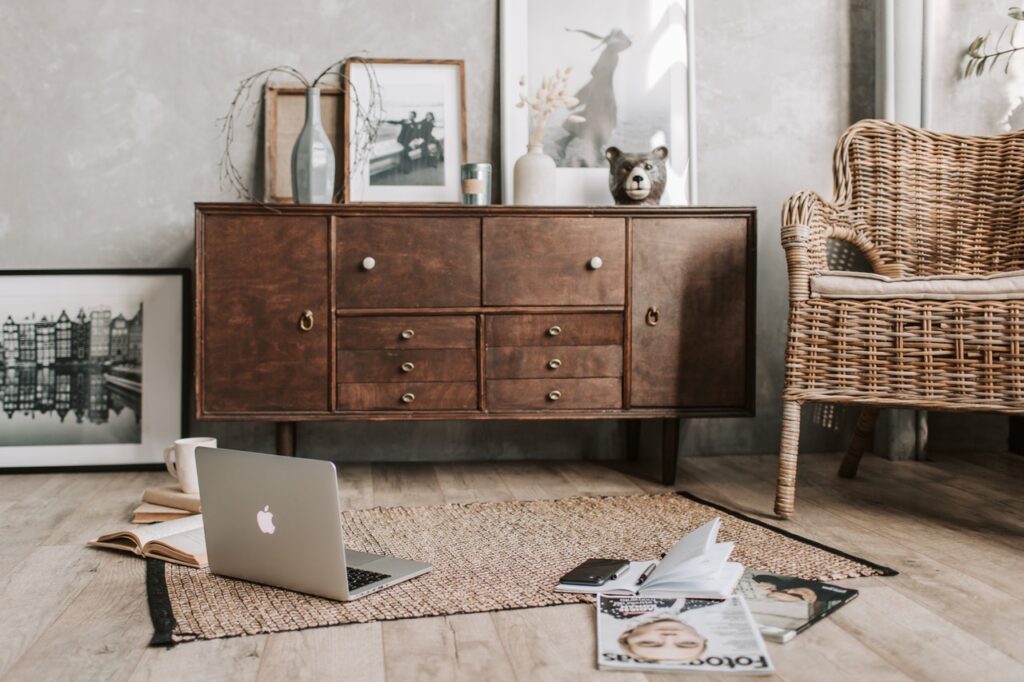 Textiles, wood and metal are the star of the mix and match show. Selecting various materials that compliment each other is a skill that sharpens over time. Let's start now! Make a list of your favorite materials.
Here are some of my favorites:
Linen
Velvet
Walnut
Rattan
Brass
Wrought Iron
Consider which material would be the easiest to repeat. It will be the "common thread" material. You could select it based on a piece of furniture you already have, affordability or simply choose your favorite material. After identifying the "common thread" material, select accent materials and unique feature materials.
Accent materials could be repeated but they are not repeated as many times as the "common thread" material. Unique feature materials will show up once, maybe twice. Think velvet or an intricate patterned fabric.
Remember that everything is made out of material. If you feel stuck, use a search engine. Type in a specific material + a specific piece of living room furniture or decor.
Mixing and Matching Furniture is Hard
Let's go back to the first time you mixed and matched on the cheap. It probably happened very quickly, out of necessity. If you are intentionally mixing and matching furniture in your living room, you likely have some furniture to use for the time being.
Sophisticated furniture mixing and matching is best done over time. Take your time selecting different pieces of furniture. Keep a list of your dream furniture based on the selections you made in the categories we just discussed. Second-hand furniture, whether vintage, antique or thrift, is perfect for a curated mix and match living room. Search for second-hand shops in your area. After identifying your favorite shops, stop by them a few times a week. There are several options for second-hand online shopping, too!
The key to everything we've discussed is thinking ahead. Create mood boards and lists for mixing and matching your living room furniture. You're going to need to trust yourself when you are making your furniture selections. Get into a creative mindset as you begin this process. You'll gain confidence as you go!