Last Updated on November 15, 2022
Where does the most life happen in your home? I'm sure 99% of you answered the living room or kitchen. The living room and kitchen are the heart of the home. Let's focus on your living room for now. Movie nights, gymnastics performances, Netflix binge sessions and gatherings with friends are a few of many things that occur in my living room.
They occur whether or not my living room is perfect. But when I've spent time creating a beautiful space, I feel a deep sense of joy when that space is used.
Some of you have had "decorate living room" on your to-do list for months or years. I know this because I have been that person. If you're waiting for perfection, you'll never create spaces you love.
The perfection comes in the satisfaction of creating a space you love and watching people enjoy that space.
I have been creating beautiful spaces for myself and clients for years, and still need that reminder. Let's all leave our perfectionism at the door and dive into the components of a beautiful living room.
Choosing Your Living Room Style
We all want to tackle a decorating project with a quick trip to Target, grabbing twenty items that Shea McGee or Joanna Gaines designed because Target's marketing is genius and everything looks like it will work perfectly in our home. Don't do this. A plan is your wallet's best friend. It will also help your living room look like your own space and not a cheap version of Fixer Upper or Dream Home Makeover. Plus, you want your home to look like your home.
Before you get on Pinterest or buy one throw pillow, make a list of all the ways you use your living room.
This is the most important step. Don't skip it. Here is a secret- you can choose any style regardless of who lives in your home. For example, your living room doesn't need to look like the Chick-Fil-A playground just because you have kids.
The adaptation of the style to your home comes in the form of shapes and materials.
This is why we make a list. If you have children doing cartwheels through your living room like I do, you probably don't want a beautiful glass vase on your coffee table. Or a glass coffee table for that matter.
Once you have the list, set it aside. Log in to Pinterest and create a board for your living room. Don't hold back. Don't second guess yourself. Spend thirty minutes and pin away.
Methods for finding good pins:
Search for a designer's name. You can look at their work. I also like to look at what they've pinned for inspiration.
Search for a specific style + "living room."
Here are some great living room styles to explore:
Scandinavian
Boho
Classic
Modern
Coastal
Southern
Mid-Century
Cottage
Victorian
Maximalist
Minimalist
Search these styles, or any combination of these styles if you're not sure where to begin.
After your pinning session, go through the board and find themes. Make a list. Yes, another list. Did you pin 5 different rooms with a forest green sofa? Write down "forest green sofa." Did you pin 7 rooms with vintage rugs? Add "vintage rug" to your list. Even if you can't quite name your style, this list and your Pinterest board are your style guides.
Selecting a Living Room Color Palette
Your living room color palette will be driven by your style. A minimalist color palette might include white, black and walnut, while a coastal palette might include white, navy blue, turquoise, beige and driftwood.
Whatever your style, keep the color palette, woods and metals included, to eight selections or less. Even if you are a maximalist with multiple bright primary colors, sticking to this number keeps your look cohesive. Color Palettes are best decided in real life. Get fabric and paint samples and place them together on a flat surface to see how they look together.
Taking a little extra time to do this, really pays off in the end.
Choose an Area Rug
Before looking at furniture, start with the rug! It is the first texture you encounter when you enter your living room and it serves as a "container" for your furniture. It can act like a piece of art, or a cozy, understated foundation of your space.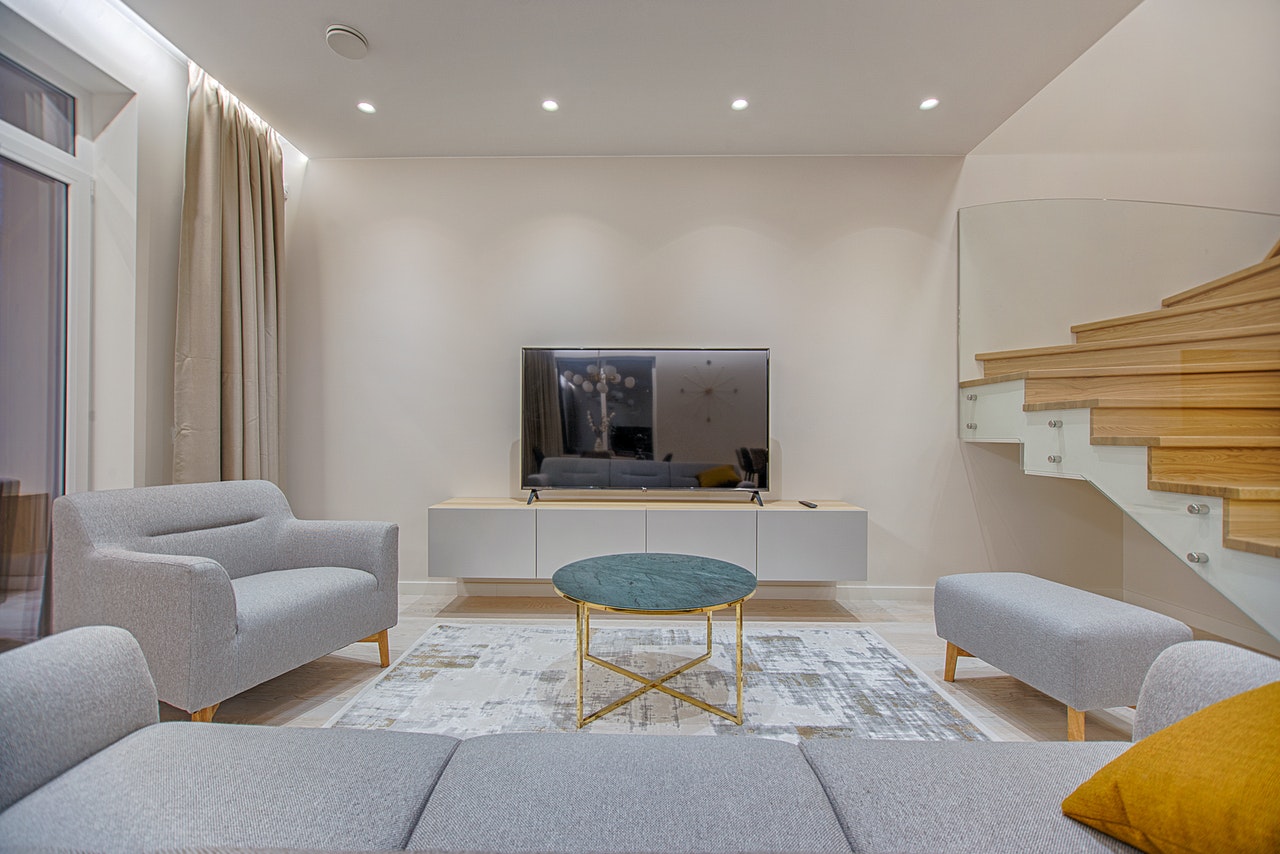 Here are three important things to keep in mind when selecting a rug for your living room:
Size: It needs to have all of the front legs of sofas and chairs on it. This means it needs to cover the majority of the floor. For most living rooms you will need an 8×10 or larger. A good rule of thumb is for your rug to sit 2-3 feet away from each wall.
Texture: if you eat and drink in your living room, you don't want a shag rug. Look at the materials in a rug and consider how those materials will hold up with the activities that occur in your living room. With three kids and a dog, I usually pick low pile rugs that are easy to clean and hide stains well.
Color/Pattern: Do you want it to be the focus of the space? Choose something with an elaborate pattern. Do you want it to blend in? Choose one neutral color.
Not sure where to begin in your search for a rug? Here are a few of my favorites!
Select Art and Photos
If you already have art you love, let that drive the space. Begin with the art. Center your color palette around it.
If you don't have art you love, examine the art in the rooms on your Pinterest board. Is it modern, geometric, whimsical? Are there oil paintings or watercolors? Use the keywords I just mentioned to search for art on Etsy or Minted.
Do you have family or trip photos you love? Incorporate them into your space. Have a wall clock you want to highlight? Learn how to place your clock perfectly and decorate around it.
Here are some good guidelines for wall art or photos in your living room:
For photos, try arrangements of 3-6 photos instead of one large photo. Keep the frames 8×10 or larger. There are several services, such as Framebridge, where you can upload photos and have them professionally printed and framed.
For both art and photos, if the wall is shorter than four feet, stack the frames.
Walls that are 5 feet or longer are good for a few rows or columns of art or photos.
If you are selecting one piece to go above the sofa, make sure it is no more than 18-24 inches from each end of the sofa.
And keep in mind, if you've got an awkward angled wall in your living room, filling it with art and decor is a great option.
Pick Out Living Room Furniture
Remember when I said you could choose any style regardless of who uses the space? Furniture is where we make the space adapt to its inhabitants.
When searching for living room furniture, have your Pinterest board open and both of your lists (uses of the space and themes from your Pinterest board) in front of you. Those are your guides. Go back to them often to check if a piece of furniture fits within the boundaries of your Pinterest board and lists, if not skip it. We are naturally drawn to more than one style. While combining styles is great, combining 3-4 styles in one space is overwhelming on the eyes.
Choose furniture for the size, shape and material.
I prefer some variation in shape and material. Mixing and matching furniture well is key. If 90% of the furniture has straight lines, throw in a round coffee table. If the sofa and chairs have rolled arms, choose a rectangular coffee table. If the sofa is leather, choose linen chairs. If you like the look of identical shapes and materials you are probably going for a minimalist or modern style. As long as it stays within the range of your two lists, you're doing great.
And if you want to go with a sectional, be sure to consider how the sofa might work with your rug!
Scale is everything with furniture. Always check the dimensions of furniture before purchasing.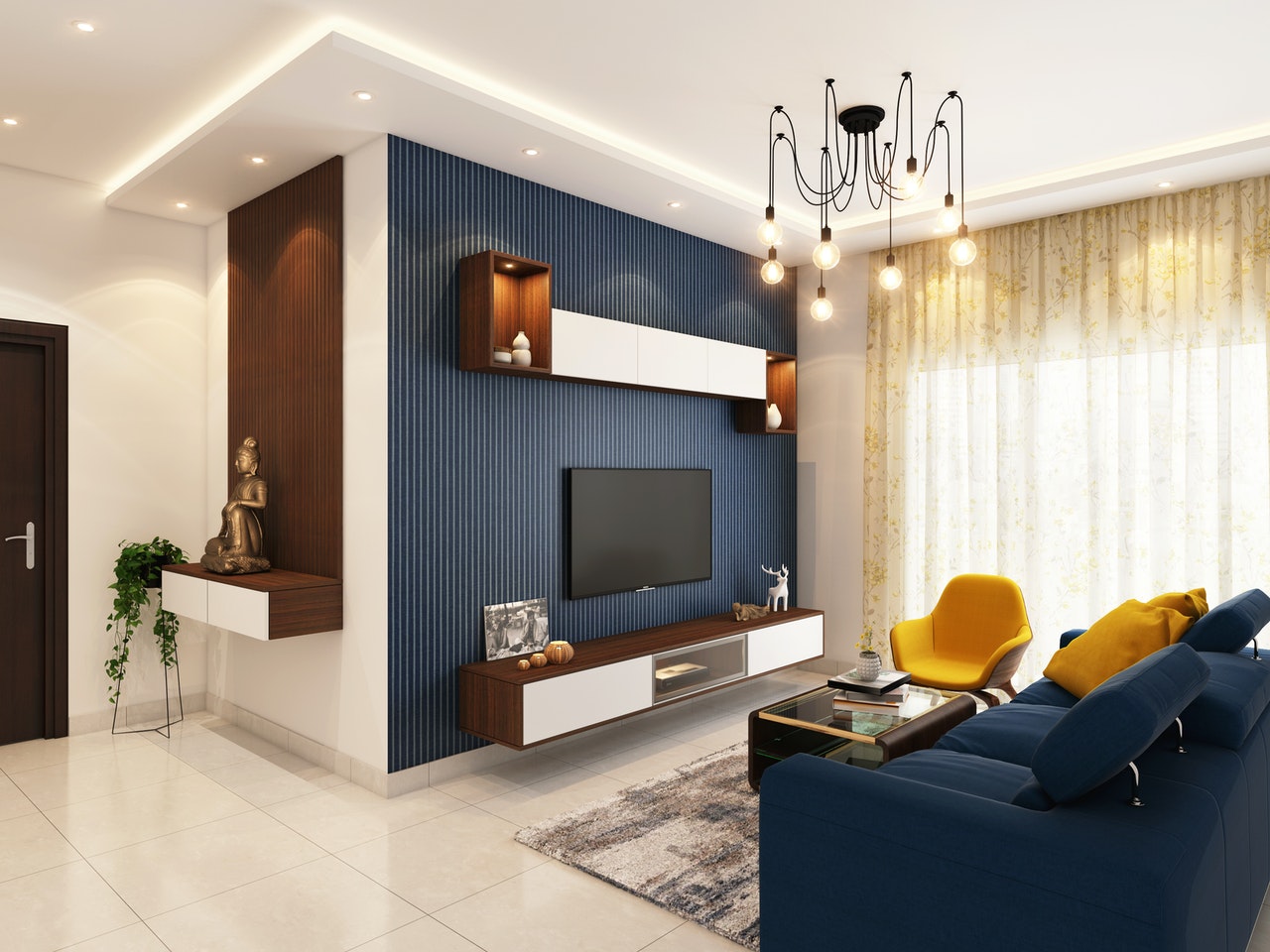 Then, use a tape measure and painters tape or other furniture in your home to get a sense for the size of the item you are purchasing online. This is especially important for more affordable websites like Target and Wayfair. Do not use the product photos as a guide for size. You will end up with chairs that comfortably seat a doll. Your sofa and chairs should be similar heights, with your coffee table at, or slightly lower than the seat of the sofa and chairs.
Unless you have a very small living room (10×10 or smaller), you'll need a sofa that is at least 80 inches long.
Here are three of my favorite sofas that are easy to build around:
If you're looking for a deal, check out our list of 7 great sofas that are under $1000.
Arrange Your Living Room Furniture
Arranging your furniture is such a key step to decorating a great living room. Regardless of the furniture you choose, here are some fool-proof living room arrangements. Most are TV or fireplace centric, and all involve a sofa. If you do not have either of these, you could use a large piece of art as a focal point.
One sofa and two chairs creating a 90 degree angle, with a coffee table parallel to the longest stretch of furniture.
One sofa, with two sets of chairs facing each other, at a 90 degree angle with the sofa. A square or round coffee table works well in this arrangement.
Two Sofas Facing Each Other with a coffee table sitting parallel between them.
Add a small round or square side table wherever it seems natural for someone to set a drink, and arrange some stylish plants around the space for some color and life.
Choose a Great Coffee Table
Often overlooked, your coffee table is crucial to your living room. Though a couch or entertainment center may be larger in size, your coffee table is often the central piece of your living room.
Make sure you choose one that matches the style, complements the color, and fits the scale of the rest of your living room furniture.
If you go with a round one, make sure you check out our tips on how to decorate a round coffee table – it can be tricky!
Light Your Living Room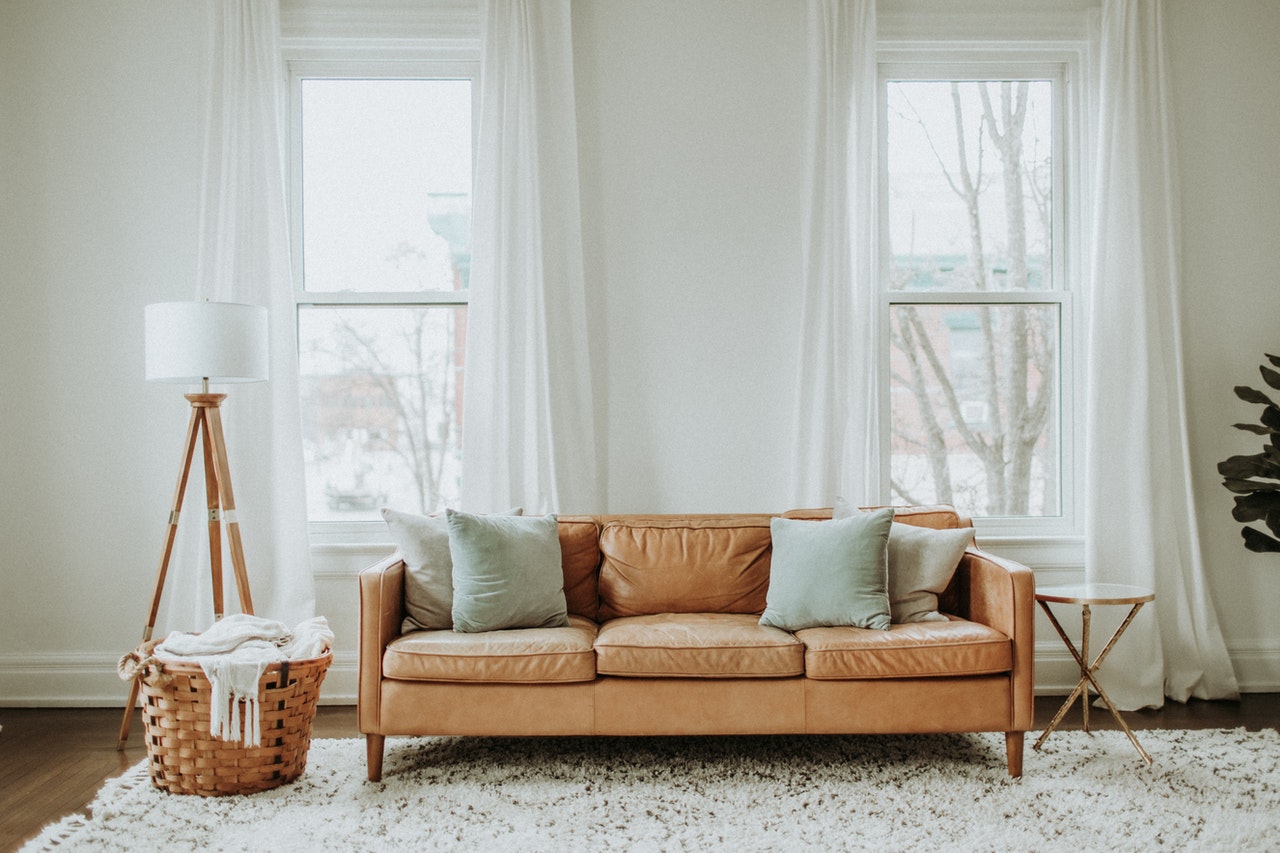 Before you think about lighting your living room, let's talk about brightness and temperature. Always consider these two things before buying a lightbulb.
The lumens determine the brightness.
You want to stick with 500-800 lumens in a living room. Kelvin is the temperature. The lower the Kelvin temperature, the warmer the light. For cooler light, choose a higher kelvin temperature. To achieve a cozy and bright living room use 3000K bulbs.
Lamps are magical in a living room. Pair matching lamps on a table behind a sofa. Stick a floor lamp in the corner by a chair. Think about where people are sitting in the evening, put a lamp there. A couple of tips for lamps and small children- make sure the lamp is as close to the outlet as possible to avoid tripping. This is probably just a good rule in general. Also, put floor lamps behind furniture so they are out of the way.
Here are a few of my favorite lamps:
Add Some Plants
Greenery is the shag carpet of the twenty first century. Everyone is decorating their living rooms with plants these days.
They're such a good addition to a living room – even if green isn't necessarily one of your colors. They still tend to work well with just about any theme, style, and color palette.
Choose a handful of plants that you love, arrange them in your living room, and sit back and enjoy the ambience (and health benefits) they bring.
Keep Your Living Room Clean
This probably seems like a silly or irrelevant step – but we see clients all the time request a living room consultation whose living rooms are well-designed and decorated. They're just dirty and cluttered.
These clients don't need an interior design consultation, they just need to get rid of unneeded items, maybe update a piece of furniture or two, and wash the rug, ya know?
So make sure you keep your living room decluttered and clean once you've updated or redecorated.
Decorate Your Living Room with Confidence
That was a lot of information! If you feel overwhelmed, you're not alone. Decorating a living room is a big project.
Take the steps you just read and break them down. Spend time on each step. Getting decision fatigue? Take a night to sleep on a decision. Ask a friend for their opinion, but only after you've developed a sense of your own style!
Remember, you want to create a space that feels like you and serves the people around you well!