Last Updated on November 9, 2023
Have you ever felt the need to buy all new furniture to create a beautiful living room? While buying new furniture is fun, it's not necessary. In fact, it's better to work with what you have first. Over time, you can assess furniture preferences and priorities, save your money and select furniture you love.
The best way to work with what you have is to find a place for everything. Arranging living room furniture is completely free, plus, you get a work out. Sounds like a great Friday night to me. Before your sofa ends up in the middle of the kitchen and the coffee table blocks the bathroom door, let's talk about how to plan a beautiful living room furniture arrangement:
Consider how your living room is typically used
Identify the boundaries of the space
Select your living room furniture
Arrange your furniture by focusing on angles and space
Before we get started, there are two affordable, must-have tools for furniture arrangement:
Consider How Your Living Room is Used
Here is a list of common living room activities:
Eating/Drinking
Hanging out with friends and family
Watching movies
Reading
Working out
Dancing
Working from home
Make a list of the activities that occur in your living room and reference it to make sure the living room arrangement accommodates the various ways the space is used.
Identify the Boundaries of Your Living Room
Many living rooms have a firm boundary in the form walls, which takes care of this step for you.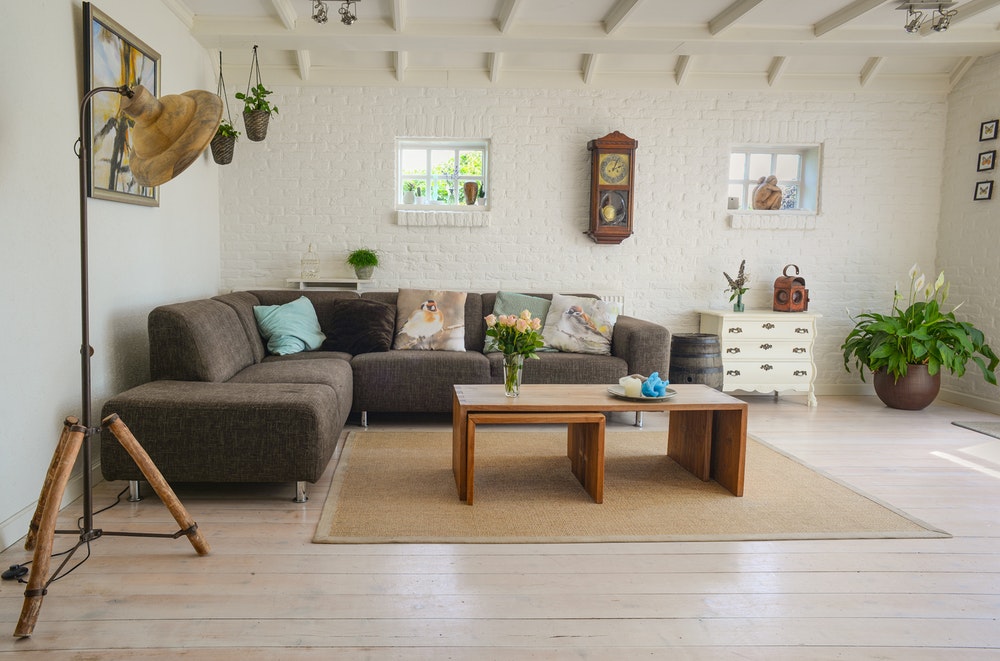 Some living rooms are part of an open concept space and the boundary must be created. In this situation, use a rug to define the location of the living room and create perimeters with your furniture.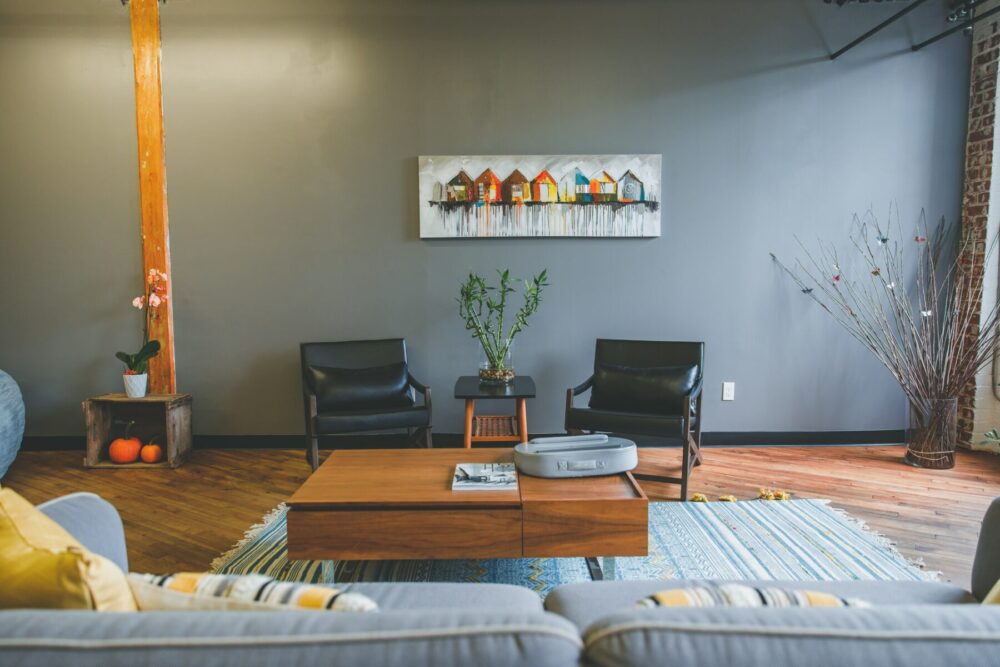 However, if there are walls, avoid creating long furniture perimeters. Instead, pull furniture away from the walls and leave space around furniture so it is not wall-to-wall. The exception to this is built-in cabinets or shelves, which are always wall-to-wall.
We'll dive into the logistics of this in a few paragraphs when we discuss angles. Make sure the space is not too small or too large based on the area around it. For example, living room seating that faces other seating should not be more than 12 feet apart.
Select the Living Room Furniture
Walk around your home and create a list of potential furniture you could move into your living room. This is "shopping" your house. It's free and fun. And don't worry if your pieces don't match perfectly, you can easily mix and match living room furniture styles. Your current nightstand might be the perfect sofa end table. My current coffee table was my former kitchen table. More on that later.
In case you get stuck, here is a list of common living room furniture:
Sofa
Chair
Coffee Table
Love Seat
Side/Accent Table
TV/Entertainment Console
Bookshelf
Floor Lamps
Large Plants
Built-in Cabinets/Shelves
As you choose furniture, make sure you know how to expand your furniture's lifespan to keep it around as long as possible in your living room.
Consider Scale
Scale is important for function and aesthetics. Do people easily fit on the furniture? When you look at the space, is all of the furniture the same size in relation to each other?
I call this the dollhouse question. Does anything look like it belongs in a dollhouse next to other furniture? If so, choose whether you will go with the small-scale furniture or large-scale furniture. You might also consider a small ceiling fan.
If you get stuck, there are a few ways to improvise.
Remember when I mentioned my coffee table was previously my kitchen table? I loved it in the kitchen, but didn't need it there anymore. The scale was completely off to be a coffee table. It was much taller than the sofa. I cut the bottom portion or each table leg off. It became the perfect coffee table.
Think about small changes that could be made to furniture that doesn't currently fit the scale of the space. Another way to "fake" scale, is to group furniture or decor to make it appear taller, longer or deeper than it actually is:
Put a sofa table behind a sofa that feels too long and narrow
Put a fake plant that needs some height on top of a cardboard box in a large ceramic planter
Stack books on top of an end table that is a little too short
Group two chairs together to match the length of a sofa
Consider Your Living Room Color Scheme
Curating a cohesive color scheme for your furniture takes it to the next level. It's the difference between the "I just got my first place" vibe and the magazine cover vibe. You can get the magazine cover vibe if you pare down the colors you use.
Select a few colors. When using furniture you already have, it's important to let the current furniture dictate the color scheme. However, you will need to exclude some furniture because it's unlikely every piece of furniture you own will fit into the color scheme. It's important to be critical of your furniture in this step.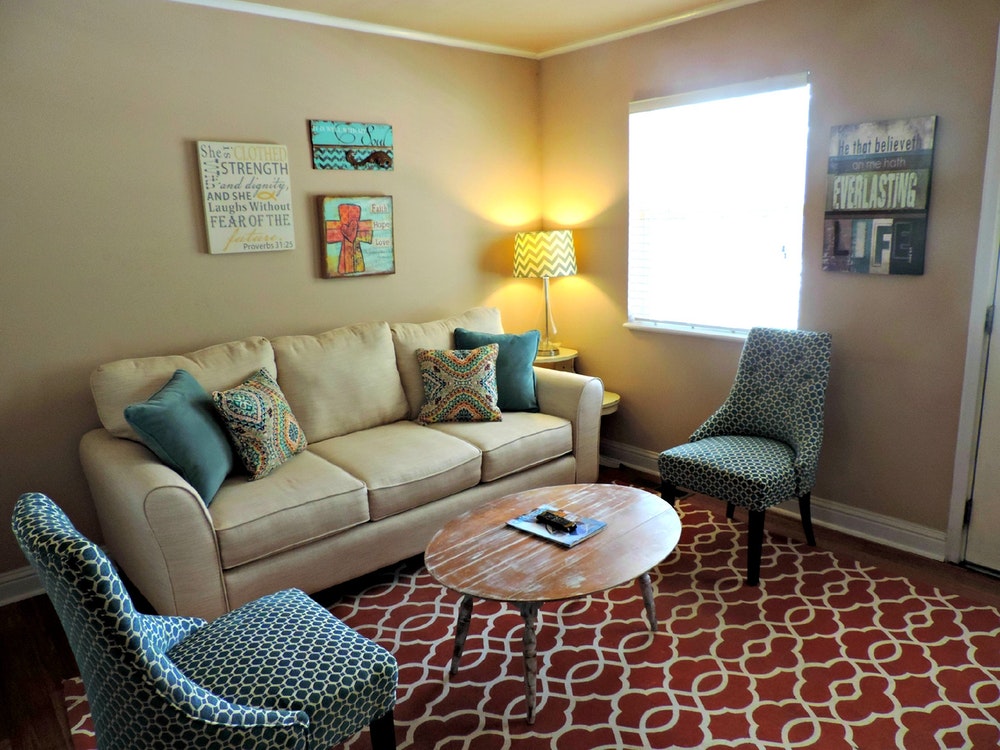 If you feel stuck, here are three tricks to make sure your furniture matches your color scheme:
Add a throw blanket that fits your color scheme over the back/side of a sofa or chair.
Add a slipcover that fits your color scheme to a chair or sofa that doesn't match the rest of the furniture.
Paint a piece of furniture to match the color scheme.
Arrange the Living Room Furniture
Once you have a curated list of furniture to work with, get out your tape measure and painter's tape.
First, move one piece of furniture into the space. This piece is a cue for your eyes. It will help you get a feel for the scale.
Then, tape the dimensions of all the other furniture onto the floor. Don't move the furniture into the living room yet.
Angles and area are important in this step. If it feels like high school geometry, you're arranging your living room furniture correctly.
Angles
A few paragraphs back, we discussed the boundaries of the living room. Whether the boundary is clear or you need to create it with furniture, arrange furniture at 90 degree angles with other furniture to create space for conversation.
Try to avoid creating a long, narrow tunnel of furniture. Each stretch of furniture should be approximately the same length, creating a square or a wide rectangle.
A tip for frequent TV watchers: Consider which seating is most comfortable and arrange it parallel to the TV.
Just because you are angling your furniture at 90 degrees, does not mean your furniture itself needs to have 90 degree angles. Round furniture is beautiful in a well-defined living room space.
Area
The space between your furniture matters. It's where people walk. It's where legs hover between a chair and a coffee table. It prevents your neck from straining while looking at the TV. It determines whether you will hear the person sitting across from you.
When you tape out your furniture, leave the correct amount of space for these things.
Here are three helpful measurements for living room furniture pacing:
18-30 inches between seating and a coffee table
4-8 inches between seating and a side table
7-12 feet between parallel seating
After you've decided where everything will go using painters tape, move the furniture into the living room.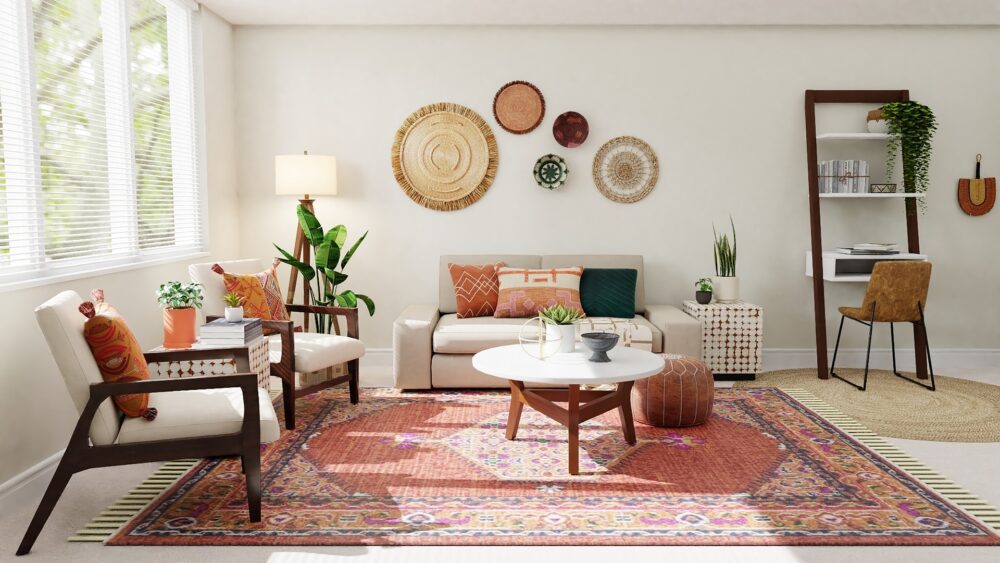 To confirm your living room arrangement will work well for you, ask yourself these questions:
Where will people set drinks?
Is there enough seating?
Will everyone be able to see each other and the TV?
Can I hear someone speaking from the seat across the room?
You may need to make some small adjustments after asking these questions, but it's worth it. You'll have a perfectly arranged living room for your family and friends to enjoy, all while spending little to no money on new furniture sets.