We spend a lot of time in our bathrooms. Some days, it may be the only room in your home where you get a chance to sit down for a few minutes. It should be an enjoyable space.
Moreover, there are additional reasons why you should decorate or remodel your bathroom. For example, investing in a bathroom remodel project allows you to update your bathroom's aesthetic appearance to ensure that it complements the latest décor trend of your home. 
It also allows you increase your storage space, which is especially useful if you have a small bathroom. With a remodel, you can improve the space's functionality by adding cabinets and bathroom vanity. 
Lastly, upgrading your bathroom to create a more welcoming one can also increase the value of your property by making it more desirable in the eyes of prospective homebuyers. So, given these circumstances, carrying out a bathroom remodel project would make a lot of sense. 
To get started, I'm going to take you through six steps to create a bathroom you'll love. You might even love it so much that you'll stick to your skin care routine and brush your teeth for the full two minutes. The possibilities are endless. We'll cover:
Let's get started on your bathroom project!
But before tackling on the details of your bathroom remodel project, it's important to know whether you should seek professional assistance or go the DIY route. 
Unless you're an expert in a bathroom makeover, working with service professionals specializing in bathroom remodel can help you get the job done with ease. They can provide you with a great bathroom remodeling project plan to ensure that your bathroom receives the necessary makeover based on your preferences. 
Once you've decided whether to seek help or choose DIY, it's time to go through these six steps to give your bathroom a more refreshing appearance. 
How to Choose Your Bathroom Style
A small bathroom is a fun space to experiment with a bold style, while a large bathroom might require a more calculated style choice since more money will be spent. Regardless of size, all bathrooms should have a style and that style should reflect you! Whether you're completely renovating a bathroom or just giving it a little refresh, allow your style to flow from the textures and colors in the flooring and the vanity.
Make a list of what can be changed and what must remain the same. For example, painting a vanity is a simple, affordable project. Changing the shape of the vanity, on the other hand, is not.
At this stage in the project, use some type of mood board. I like to create a Pinterest board. If switching out the vanity or tiling the walls isn't in the budget, search for bathrooms with similar features to your current bathroom. Get excited about the potential of what already exists in your space. 
Common Bathroom Styles Include:
Contemporary –

Characterized by clean lines, minimalism, and a natural color palette.

 

Eclectic –

A harmony of styles that creates a unique space.

 

Modern –

Has sleek lines, geometric shapes, and a focus on function.

 

Traditional –

Classic and timeless with an ornate design.

 

Beach / Coastal –

Blends natural elements with a nautical theme.

 

Craftsman –

Simple yet refined with an emphasis on quality craftsmanship.

 

Farmhouse –

Rustic, country-inspired elements like exposed beams, distressed wood, shiplap walls, and metal finishes.

 

Industrial –

Inspired by factories and warehouses with an urban edge.

 
How to Select a Bathroom Color Palette
There are usually four or more permanent surfaces in a bathroom. Think flooring, walls, countertops, and vanity. Changing a paint color is an affordable project. Changing wall tile, flooring, countertops, and the vanity are bigger budget items.
If you have the opportunity to select all new finishes, take time putting samples together. Samples can be purchased from vendors and stores at little to no cost.
For your color palette, select up to eight colors, including metal, stone and wood finishes.
For a more minimalist look, only select 2-3 colors.
If you do not plan on changing any of the metals (hardware, faucets, fixtures) or surfaces, consider how the colors you select will look with the existing color palette.
If it's in the budget, incorporating a fun tile or wallpaper is a great way to guide the style and color palette selections.
How to Select or Update Bathroom Fixtures and Hardware
Spending more than two seconds searching for a towel in a bathroom, while your hands are dripping wet, is not fun. Even worse, is having to step outside the shower to reach a towel. But, I think we can all agree, nothing beats the misery of an out of reach or empty toilet paper roll when you need it most. Don't do this to yourself or your guests.
If you remember nothing else from this article, remember this- install your towel and toilet paper fixtures in a logical location. It's best to place towel hooks or bar and toilet paper within arm's reach of the shower or toilet bowl.
Once you know where everything needs to go, decide what type(s)of metal you'll incorporate if you haven't done that yet. For a cohesive look use one or two metals in a small bathroom and up to three in a large bathroom. Make sure each fixture shares the same metal with at least one other fixture in the space.
Here are some common bathroom fixture materials:
Matte Black

Chrome

Brass

Nickel

Bronze
One of the most affordable ways to update a bathroom is to replace the vanity door and drawer hardware. Cabinet knobs and pulls are simple to install. As long as the new hardware matches the previous holes, feel free to mix it up and use knobs on drawers or pulls on. Adding a new hole is simple. Covering an original hole is not as easy. For a modern look, use drawer pulls on the vanity drawers and doors.
Overwhelmed by the amount of bathroom vanity hardware to choose from? Here are my go-to knobs and pulls:
Updating Your Faucets
Bathroom sink and shower faucets can quickly give away the age of a bathroom. Sometimes that's a positive thing. Vintage bathroom faucets that are in great condition can be beautiful.
However, it's common to find dated or builder grade faucets that don't serve you well in form or function, and it is essential to have a functioning faucet. Form is the cherry on top.
Hiring a plumber to fix even the smallest faucet issue can be pricey. If you are on a tight budget, prioritize high quality faucets. It will save you money down the road.
The form of a faucet strongly impacts the style of a bathroom. Take time to consider your style before selecting a faucet. When searching for a faucet, it is important to note what type of faucet your sink will accommodate.
The most common types are centerset and widespread.
Double check to make sure the dimensions of the faucet will work with your sink. It would be pretty disappointing to wash your hands under your new faucet, only to find out the spout doesn't extend far enough over the sink. When ordering anything for your home, you can never check the dimensions and specifications too many times.
Here are some of my favorite faucets:
Working with Bathroom Mirrors
As you assess the changes you plan to make in your bathroom, it's easy to forget that most mirrors can be switched out with minimal labor.
The type of mirror in your bathroom influences the overall feel of your bathroom. So say goodbye to your dated mirror.
When selecting a new mirror, consider the shape and size. Painters tape is the best tool to choose an appropriately sized mirror for your bathroom. Tape out a few potential mirrors to see what makes sense for your needs. A quick check for scale- the mirror should not extend past either end of the vanity, but should be wider than the bowl of the sink.
Take a look at the different styles of bathroom mirrors and decide what will work best for you:
Sprawling single mirror

Vintage-inspired mirrors

Geometric mirrors

Arc mirrors

Antique-oval mirrors
But here is my favorite mirror secret: You don't need to buy a "bathroom vanity" mirror. Every home store has mirrors – start there!
Choosing a Shower Curtain
Remember when I just freed you from searching for a bathroom mirror that is specifically made for the bathroom? The same goes for a shower curtain!
As long as you have a quality shower curtain liner and good ventilation via a fan or window, you can use regular curtains!
To add a little class to your bathroom, raise your shower curtain rod a little higher than normal. Leave around 6-12 inches between the ceiling and the rod for ventilation.
Then, measure the height from the floor to the rod. Choose a shower curtain (or regular curtain) based on that number.
As for the design, anything goes! Have fun and choose something you love.
A bold pattern is an excellent choice if you want to make a statement. On the other hand, look for a solid color or a simple style if you prefer a more subdued design. Just ensure the curtain you select complements the overall aesthetic of your bathroom.
How to Choose Bathroom Mats and Rugs
Mats and rugs are a necessary part of any bathroom design. They serve both functional and aesthetic purposes.
When selecting a bath mat or rug for your bathroom floor, consider the amount of exposure to moisture in areas you might put a mat or rug.
Here is a practical, yet beautiful combination- a bath mat specifically designed for high moisture areas that remains on the side of the tub/shower when not in use, along with a regular woven rug in front of the sink.
Skip the mat or rug in front of the toilet. Without going into the dirty details, soft surfaces are more difficult to keep clean than hard surfaces (especially if your wax ring leaks).
How to Choose Bathroom Lighting Fixtures
Bathroom lighting needs to feel natural and provide sufficient light for the vanity mirror.
If you've ever put on make-up in a dark bathroom, only to realize you look like a clown outside of the bathroom, you understand the importance of a well-lit bathroom.
In order to accommodate all lighting needs, it's best to have at least two different sources of light.
This is often done through recessed lighting and a vanity light. Recessed lights in the bathroom can be paired with a moisture reducing fan. I highly recommend this option to keep the visual clutter on your bathroom ceiling to a minimum.
Vanity lights could go above or on either side of the mirror. If you have a tight budget, find a new light fixture that will fit in the exact location of the old fixture. This helps keep expensive electrical work to a minimum.
If you've selected a dark color palette for your bathroom, you will need extra lighting since dark colors do not reflect the light well. That extra light can be natural or artificial.
The right lighting elements will take your bathroom from dreary to delightful!
Select light bulbs that are 2700-3000k for the perfect light temperature for all bathrooms.
How to Decorate Your Bathroom Countertops and Maximize Storage
Whether your style is minimalist or maximalist, it is important to use your bathroom counter space for essential, everyday items.
Don't add more than one or two decorative items. 
Need inspiration for a children or guest bathroom? Don't count out the rubber duck theme.
That doesn't mean it can't be aesthetically pleasing! While your toothbrush and retainer case might not be cute, your perfume or cologne bottles are probably pretty. Select a hand soap container that contributes to the style of your bathroom.
Round up a few of the easy on the eyes essentials in a tray on the countertop. A little jar of cotton balls, a stylish toothbrush holder, a candle, some matches. Save the less appealing essentials for easy to reach drawers or cabinets.
Speaking of drawers and cabinets, assess your storage needs by going through all of your toiletries. Categorize them and make notes about each category.
How much space will your hair products need?

Do you need more storage space for shallow items that can go in a drawer or tall items that require cabinet space?

Where will the aforementioned retainer case reside?
Consider using unconventional storage tools, such as a round, turntable tray for easy access to several taller items. Make sure to do the prep work before heading to the store to go crazy in the container aisles.
Stocking up on organizational supplies is fun. Knowing that what you're buying will actually be used is even more fun. 
And when the time comes to update your bathroom, know that it's possible to do it on a budget.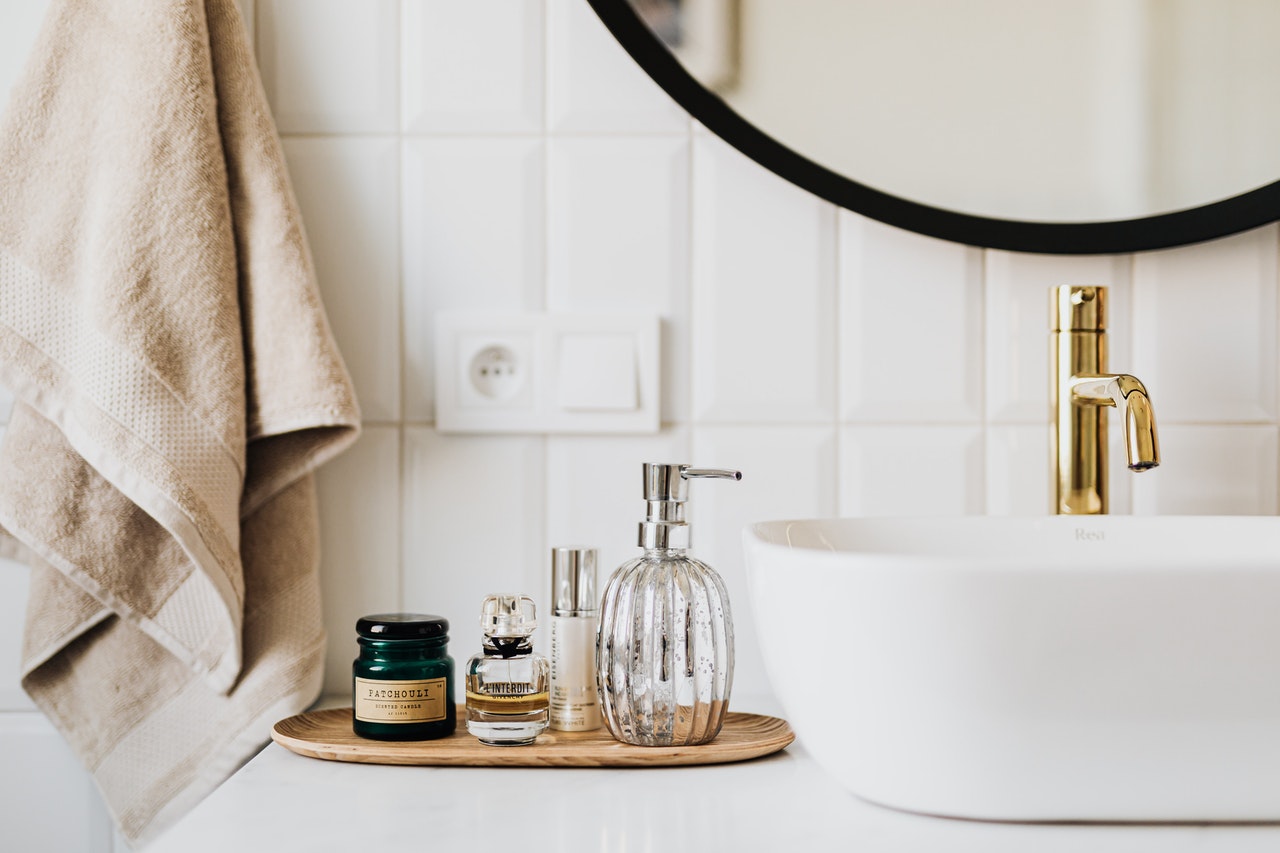 Here are three of my favorite countertop trays:
Decorate Your Bathroom for Rejuvenation
Bathrooms have the potential to be rejuvenating spaces in our homes.
If you are limited, whether by time or budget, choose a few of the categories above and give them your full attention. Start with the biggest pain points or eyesores. Making a few small changes will have you feeling like your bathroom is the nicest spa around. Who cares if your bathroom is only 30 square feet.
Go light that candle and run that hot bath or shower. You did it! You created a space you enjoy!