Last Updated on May 24, 2023
When your living space is filled with nothing but straight lines, bringing in a round coffee table is the perfect complement to add interest and give your room a more dynamic visual impact.
Round coffee tables are stylish and beautiful, brought in to soften up an otherwise traditional design. It gives your room warmth and offers a welcoming element for family and friends to gather round and relax.
What Do You Put on a Round Table?
Once your round coffee table is in place, it can be much like staring at a blank canvas. The key to designing your table is to keep it simple and clean. If you put too much on the table, it takes the look from the intentional, simple beauty you are after to messy and cluttered.
If your palette is neutral, you can bring in subtle pops of color here. And most importantly, bring your own style and personality!
7 Ideas and Tips for Styling Your Round Coffee Table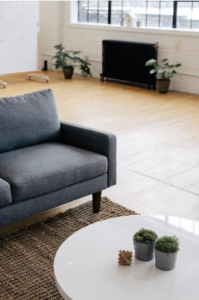 Go with a Simple Style
A simple, understated style is the secret sauce to successfully designing a classy round coffee table.
You should bring in items that reflect your personality without displaying too much to the point of overwhelm.
Some round coffee tables have additional space under the table, where additional items can be displayed. The same rule of clean and simple applies here, too.
Remember that coffee tables are used to finish off your room and not so much for storage. Display a pretty tray or additional stacked books here.
And if you need help moving your coffee table out of storage or to a new place, consider reaching out to local movers Boston for assistance.

Start with a Focal Point
Your focal point should be the main thing that catches the eye right away. It is something that dominates the design and stands out from the rest of the pieces in the group.
Your focal point is typically much taller than the rest of the items, such as a vase or a candle. The other items will work to compliment the dominant focal point. You could also use a lamp to light up the living room.
If you choose a vase as your focal point, use it to display tall decorative grass, ferns, or colorful cut flowers. Any of these work well and simply a matter of preference.
You can use a clear glass vase or a chunky ceramic variety. The type of vase doesn't matter as long as it's larger than the rest of your items. It helps to first decide what will go inside the vase in order to pick the right one.
As for candles, there are a lot of large varieties that not only work perfectly as a focal point, but make the room smell great, too. Your candle can either stand on its own, be placed on a stand or inside a container.

Use the Triangle Grouping Design
Hands down, the most popular design for a round coffee table is a triangle grouping design.
Now that you've decided on a focal point, pick two other items to use as compliments in your grouping. You can modify this once put together, but start with three items that work well together.
Group these three items in a loose triangle design in the center of your round table. The other two items you choose for the triangle design vary in height but are always smaller or shorter than the focal point.
Other pieces to include in your grouping may be:
Stack of 2-3 books
Decorative box
Statement pieces such as ceramic artwork or a metal or wooden sculpture
Funky pieces (large dice, unique artwork, or sculptures)
Candle groupings
It's perfectly OK to mix and match several pieces with your focal point item until you hit the right mix. You'll know it when you find it.

Use Layers
To help style around the focal point, think layers. The next piece should be something large, but not as large as your focal point. It should also contrast with the focal point.
For example, if using a large glass vase as your focal point, bring in an element of wood or metal to display next to the glass. It gives good contrast, balances out the glass and warms up the design.
The last piece in your triangle design should be lower than both the focal point and second design piece. A stack of books or decorative or trinket box works nicely here. You could even go with a little clock – whether or not you've got a living room clock already or not.
After getting the three pieces of your design together, add decorative elements such as beads, unique coasters, or other small statement pieces.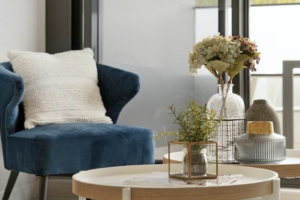 Try Contrasting Shapes and Textures
To keep the design visually pleasing and balanced, mix contrasting shapes and textures. If you display a round vase as a focal point, the square lines of a decorative box or stack of books gives balance to the display because of the contrasting shapes. Mix straight lines with round items, glass with wood.
If using large candles, this is where you can add color elements to tie colors in your room together. If there's a mint green throw pillow on the couch, bring in a green candle to tie that together. Choose candles with different textures such as beeswax or multi-layers of different scents and colors. Consider your rug placement and what kinds of textures it calls into play.
A fun and inexpensive way to add interest and additional texture to your design is to cover books with a textured book cover before stacking. This easy tip gives your design an interesting, unexpected, and rugged texture to balance the softness of the table. An earthy fabric like burlap contrasts well against colors used in a vase or candle.

Bring in Natural Elements
There's nothing that warms up your space like a bit of nature. Choosing to display flowers in your vase or the large green stems of a fern are good choices.
Use a large candle and a smaller vase with a medium high plant to easily bring that natural element in while keeping the attention on your focal point.
Plants and flowers automatically breathe life into the room and work well in any table grouping. The different types of plants and flowers also helps mix things up with color and texture.
Although tempting, try to avoid using artificial plants or flowers. Let's face it. There is really no good substitute for the real thing. Plus, there's nothing like a great smelling vase of fresh flowers.

Use a Tray
Using a large rectangle or square tray works to bring in style and function to your design. By using the straight lines of a tray on top of a round table, it ties in the other straight-line elements of the room (like the couch or sofa and other square end tables) perfectly against the round lines of your coffee table.
In this way, you're easily pulling all the room's design elements for a finished look.
The other benefit of using a tray is that you set your grouping inside the tray and when you need to clear off the table, simply pick up the tray and you're good to go.
Choose a wicker, bamboo, or wooden tray to bring in an additional natural element to the room. This softens up the design and makes it even more homey.
What Shaped Tray Should You Use?
A square or rectangular tray looks great on a round table. A round tray on a round coffee table can work (see the image here), but it's often not the most functional. If the tray is larger, you're left with no room to place drinks or other items. Triangle shaped trays can work as well!
It's Just a Coffee Table
Although round coffee tables can be challenging to style, you now know they don't have to be.
By starting with a simple triangle design, you'll be surprised at how many items you already have in your home that would look stunning when grouped together in style on a round coffee table.